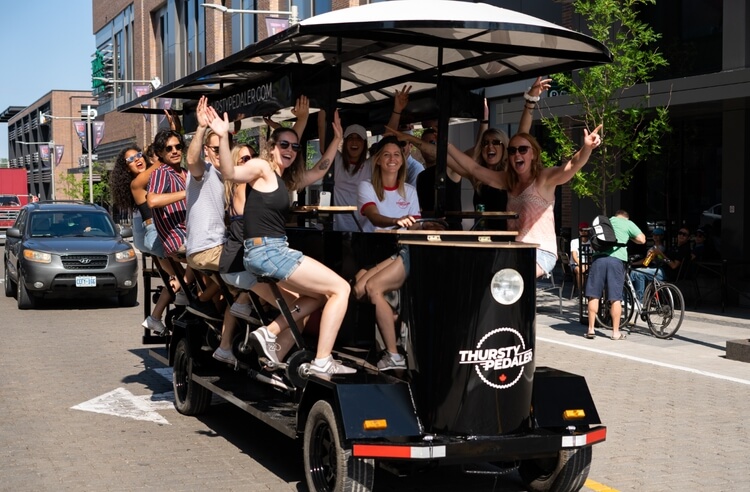 Explore some of the best bars, restaurants, and patios Ottawa has to offer. Pedal your way through one of two vibrant Ottawa neighborhoods, refueling along the way at three local watering holes.
The tour is 2 hours and includes a designated party pilot, a curated party playlist, samples at our awesome partner locations, and an all-around party-pedaling great time.
Each tour hosts up to 14 people.
Our coffee crawl experience is offered in the Glebe only!
What a fun way to celebrate a bachlorette! We had fun touring around the glebe and visiting different restaurants/bars. At the last stop you can stay as long as you want. Our tour guide Nick made it even more fun! I would definitely recommend this to anyone!
Earn your Beer! Hilarious and fun way to spend a day Amazing way to bond with friends. As soon as you start moving you feel the adrenaline rush, the music is blasted, your legs are pumping, and everyone is immediately brought up to another level of mood.
11 of my friends and I booked the Thursty Pedlar for a friends birthday and it was awesome! The pubs we stopped at and the deals we got at each place were great. I would highly recommend this to anyone and everyone. An awesome day so worth every penny!
It was such a good time! We stopped at three different locations that each had a different atmosphere. Max, our host, was great! .. And yes, you do actually have to pedal, haha. Did not take us long to warm up on a chilly October evening.